Robert D Cresap Presidential Endowment Fund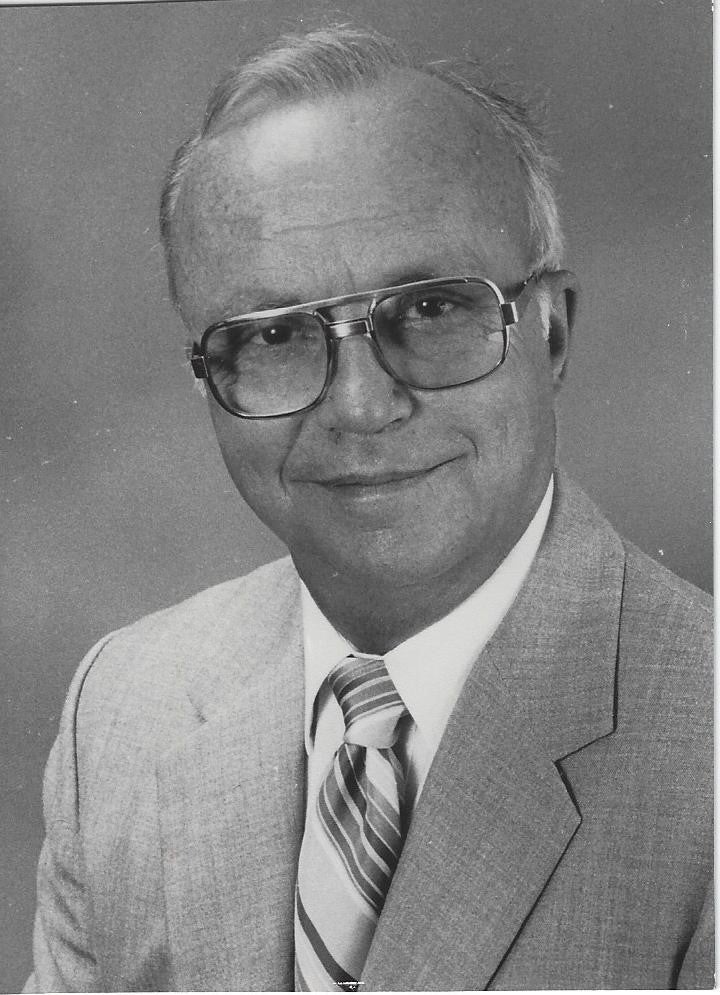 "In recognition of more than 35 years of his leadership in the field of taxation and accounting, an Endowed Presidential Scholarship in the name of Robert D. "Bob" Cresap was established by his Arthur Andersen partners and his friends. Bob was active in the recruitment and career development of many tax professionals and demonstrated a keen interest in young people and higher education during the many years he that he recruited at UT."
Bob Cresap was born July 14, 1922 in Omaha, Nebraska. His father was a traveling salesman who Bob admired all his life. Shortly after his birth, the family moved to Sioux City, Iowa. In high school, he met the woman he would end up marrying, Helen Whitmer.
After graduating high school in the spring of 1941, Bob worked in a wholesale grocery store cleaning floors and stocking shelves. Each month, a man in a suit came into the store and went up the stairs to the owner. He asked who the man was and was told he was the accountant. Bob thought it would be nice to be someone who could talk to the owners of companies.
In November 1942, he enlisted in the Marines. After boot camp at Camp LeJeune, NC, he went to parachute school and was then assigned to the 5th Marine Division. He never parachuted in live combat. 
He was sent to New Caledonia, Guadalcanal, the Solomon Islands and then to Iwo Jima, where he was wounded on February 26, 1945. He had to wait two days before a ship could be brought in to evacuate him to Pearl Harbor to recuperate. After four long months in the hospital, he was sent home.
As his wife would one day describe it, "Once he got home, it was like his tail was on fire!" Seeing all his buddies and friends in college reminded Bob that he had lost two years by being in the service. Taking advantage of the GI Bill, which helped returning veterans with college, among other things, he was able to finish college at Iowa State in just two and a half years.
Bob and Helen married in September 1946. Bob then got a job with Arthur Andersen and enrolled in the University of Minnesota law school to study tax law.  During that time, they had three children: Danna, Marc Whitmer and Matthew DeWitt. 
Bob's goal was to become a partner with Arthur Andersen and head of the tax department. He and his family were transferred to Tulsa where he was to assume that role, but the man who was supposed to retire from the position decided to stay on, and Bob lost out on that opportunity. 
Not discouraged by this setback, Bob hung in there and in three years was offered the position of Tax Department Head in the Houston office, where he also became a partner. He had finally become that "man in the suit that went straight to the boss."
Some might wonder why a boy from Iowa has a Presidential Endowment fund named after him at the University of Texas. Bob spent 30 years recruiting accounting majors from the College and Graduate School of Business at UT. He was a tough interviewer; he didn't pull any punches. He knew the job was hard and he wanted to make sure the applicant understood that. 
One day in late 1970, his daughter, Danna, was having a coke and chips in the basement of the Business Administration Building between classes. The chairs sat back-to-back to each other and she heard a boy behind her talking to a friend and complaining about what a tough interview he had. His friend asked him who his interview was with the and boy answered, "Bob Cresap."  His daughter laughed to herself and thought, I bet that one didn't make the cut!
Bob loved Tax Accounting and was the "go to" person for tax questions. He was called on several times to go to Chicago, Arthur Andersen's headquarters, to give speeches on the tax law changes.
In March of 1990, he and his wife went on a trip to Egypt. Tragically, the hotel they were in caught fire. Bob and Helen went down a staircase with 17 other people, but unfortunately, both were overcome with smoke. Bob died and Helen had severe injuries to her throat.
Bob had only been retired for 5 years, but he and Helen did a lot of traveling during that time. His loss was huge for his family and friends.
In Bob's memory and in honor of his incredible legacy, we hope that this endowment helps young people with high goals to achieve them at The University of Texas at Austin.
Written by Danna Cresap, daughter of Robert D, Cresap and 1972 UT BBA graduate