Charls and Harmolyn Walker Excellence Funds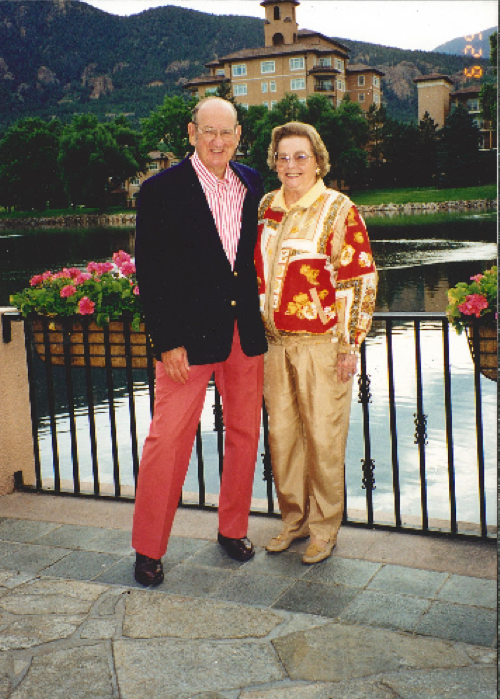 Charls Walker, often called Charly (the very thing his mother did not want when she left the "e" out of his name) was as unique as the spelling of his name. He was a gifted educator, dedicated public servant and legislative influencer. He and his wife Harmolyn were described by a longtime friend as perfectly matched, "both whip smart, both with unusual charm, made magnetic by its authenticity, and both independent spirits." They met after World War II at the Forty Acres and married in 1949.
Beginning with his service in the Air Force training bomber pilots during the war, Dr. Walker lived a life of extraordinary public service and political influence. He studied economics, earning his master's degree at UT and his Ph.D. at Wharton. While an economist at the Federal Reserve Bank of Dallas, he was invited by the Eisenhower administration to become Assistant to the Secretary of the Treasury, Robert B. Anderson.
Dr. Walker began his remarkable career as a lobbyist for the banking industry when, in 1961, he became head of the  American Bankers Association in New York City. In 1969, he was invited back to Washington where he served as Deputy  Secretary of the Treasury under secretaries David Kennedy and later John B. Connally. While there he was instrumental in shaping well-reasoned arguments for changes to national policy.
During this period of their life Charls and Harmolyn were occupied  by the many social obligations attendant upon  his position, with Harmolyn also dedicated to their home and children.  Once these responsibilities did not require her full attention, Harmolyn was free to apply what she had learned earning undergraduate and masters degrees in psychology at UT.  She became an expert in psychological testing, a relatively new and fascinating field, particularly the well-known Meyers Briggs Type Indicator.  Dedicated, as Charls was, to public service, Harmolyn used her expertise as a volunteer in charitable organizations and government agencies.
Looking back on Charly's life, a longtime colleague and former Comptroller of the Currency , James E. Smith, offered this appreciation:
 "The formulation of sensible, sustainable public policies and gaining their approval by the Congress or other appropriate agencies of government were endeavors occupying much of Charly's adult life. Few intellectual tasks are harder and more tormenting of mind, soul, and spirit. Most of us, so involved, ultimately for self- preservation develop a shell of cynicism. I am certain that Charly never sought that refuge. He forever maintained his idealistic and optimistic aspiration for this Nation and more generally for humankind ."
Gifts from Charls and Harmolyn created two endowments at UT Austin, each building on and encouraging work in  policy and public service.
The Charls and Harmolyn Walker Graduate Research Excellence Fund was established on May 30, 2018. The Fund provides financial support to graduate students assisting UT Austin faculty members affiliated with the Annette Strauss Institute for Civic Life, with preference given to students of the LBJ School of Public Affairs. The Annette Strauss Institute's purpose is to cultivate informed donors and active citizens.
The Charls and Harmolyn Walker Public Policy Excellence Fund was established on July 6, 2018, to benefit the LBJ School of Public Affairs,  particularly financial support when needed to allow graduate students to participate in public policy internships. The internships are often in Washington DC and can provide networking opportunities and real-world experience that can be crucial to establishing a career.
The Walkers have created a legacy of extraordinary commitment to public service, that will be reflected in generations of future UT students.
September 3, 2019