Eliza and Stuart W. Stedman Texas Athletics Excellence Fund in Performance Nutrition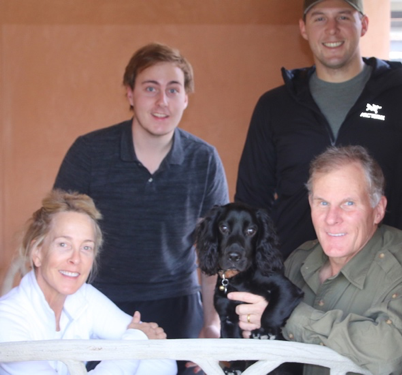 The Eliza and Stuart W. Stedman Texas Athletics Excellence Fund in Performance Nutrition was established to benefit The University of Texas Intercollegiate Athletics. Gift funds were provided by Mr. Stuart West Stedman and Mrs. Eliza Erwin Stedman, inspired in part by the experience of former Longhorn quarterback Colt McCoy.
The following originally appeared on The Longhorn Foundation.com website:
A few years ago, connected by a mutual family friend, Colt McCoy visited Stuart and Eliza Stedman at their ranch. McCoy reminisced about his varying obligations as a Texas quarterback.
When he wasn't studying textbooks and the Longhorns' playbook, dissecting scouting reports or training in the gym, McCoy said he used his free time to scour coupons for the cheapest meal deals in Austin. At the time, Texas student-athletes were only allowed one provided meal per day from the NCAA, and McCoy said his monthly scholarship stipend barely covered rent and his cell phone bill.
Eliza, a former nutrition student at UT, was alarmed. "How can you play football on one meal per day?" Eliza wondered.
The vision of McCoy and other student-athletes clipping coupons compelled the Stedmans to work with the Longhorn Foundation to finance a sports nutrition endowment. The Stedman's program endowment dollars are helping sustain the day-to-day operations that inspired a new nutrition center for Texas Athletics.
Last summer, the NCAA introduced new dietary regulations, allowing student-athletes lunch and dinner, plus unlimited snacks. To Eliza's delight, UT student-athletes are no longer forced to fuel themselves on fast food, but that reality added almost $2 million to the Texas Athletics budget. In addition, UT's dining hall lacked the operational capacity to sustain more than 500 student-athletes.
Thanks to the help of donors like the Stedmans, the Texas Athletics Nutrition Center opened in Fall 2015, with amenities like a wood-fired oven, expanded salad bar, a fresh grab-and-go section and a grill-to-order bar.
"It was a perfect fit. Endowments are permanent and sustaining, and this area of need really appealed to us," Stuart said.
For Eliza, she's just happy student-athletes are being fueled to win. "I truly feel if we feed them well, they'll perform better," she said.
This fund is an example of the best aspects of the UT donor community: supportive, generous, and responsive to students' immediate needs as well as their future aspirations. As a result of the Stedmans' thoughtfulness and foresight, generations of student-athletes to come have access to healthy food choices, ensuring that they are well-fed and equipped to perform at their very best
September 16, 2019