Eric M. Suhl Endowed Scholarship
 The Eric M. Suhl Endowed Scholarship was created in memory of Eric Matthew Suhl, Class of 2009, who passed away in February 2016 at 28 years old. The scholarship was the gift of the Eric M. Suhl Foundation (EMSF), whose members include his parents Randy and Debra and his brothers Kyle and Ryan, as well as board members Eric Horvitz (President), Jeff Magids, Eugene Tunitsky, Brett Luskey, and David Siegman. Every board member of the EMSF is a proud UT graduate.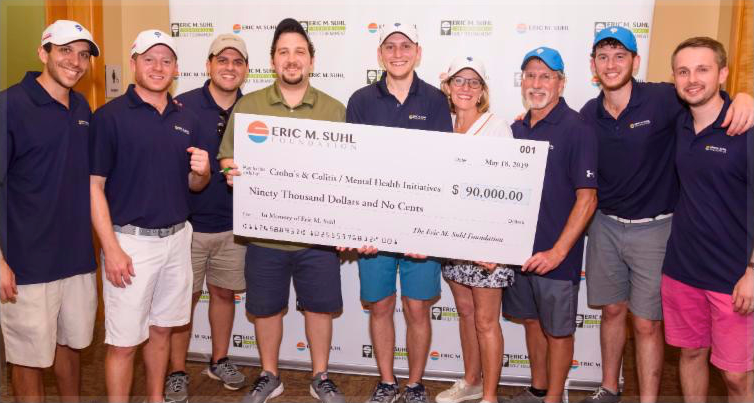 Eric followed a well-established family tradition in choosing to attend UT. In his large and supportive family, Longhorns include his parents, older brother Kyle, younger brother Ryan, Uncles Mickey Suhl and Michael Scher; Aunts Caryn Rifkin, Marilyn Scher, Anita Leffel, Susan Prato, and Cathy Kansky; and cousins Mel Waxler (who earned four UT degrees) Sari Waxler, Kimberly Kass, Lauren Schulz, Carli Baker and Brian Waxler. He grew up with people whose lives were touched and changed by their time at the Forty Acres.
As for Eric himself, his mother remembers that "There were many things about UT Austin that he loved. It made him a better person and he went on to a successful career after graduating."
Top: Eric with his intramural softball team and Eric with his mother, Debra.
Bottom: Eric with Silver Spur friends.
At UT, Eric became a Sigma Alpha Mu brother and a Silver Spur. He enjoyed playing intramural sports, hanging out with friends, and exploring Austin's outdoor activities. His mother described him as a "fun-loving personality…he just wanted to enjoy everything that life had to offer." The Eric M. Suhl Endowed Scholarship is just one reflection of the enormous affection and respect Eric's family and friends had for him.
During his senior year, Eric volunteered at Austin's Town Lake Animal Center where he would meet and adopt his four-legged best friend, Callie (below). They were inseparable, spending their time at Zilker Park, Pease Park, and the Barton Creek Greenbelt. 
 That same year, Eric was diagnosed with ulcerative colitis (UC) and was hospitalized twice with serious complications. Challenged by hospital stays, doctor visits, medication side-effects, and the daily complications of life with colitis, he worked very hard to graduate on time.  According to those closest to him, Eric remained consistently upbeat, determined to ensure that everyone around him had fun. He did not want to focus on his disease or let it define him and often refused to talk about how it was affecting his life.
Growing up in Houston
Eric was an active kid. He played baseball at Westbury Little League, soccer at Westbury Soccer and basketball at the Jewish Community Center. He was accepted into the HISD Magnet School programs in elementary,  middle and high school. He played drums in middle school and golf in high school. He enjoyed spending time with his friends and rose to leadership positions at BBYO, a community youth group.
No matter how busy his schedule, Eric always made fishing a summertime priority. He  could typically be found at his grandparents' bay house in Bayou Vista. You could count on him to lead the charge, dragging brothers, cousins, and their little red wagon out for a morning fishing tournament each summer.
The Eric M. Suhl Foundation
Each year the EMSF hosts the Eric M. Suhl Memorial Golf Tournament, which has been the Foundation's largest fundraiser since 2016. The tournament format is inspired by Eric's love for the people around him and his desire for them to have a good time. It features unique games and contests, allowing golfers of all skill levels to participate and enjoy themselves.
The generous support of donors and sponsors made it possible for EMSF to gift this scholarship and make significant donations in Eric's memory to the Crohn's and Colitis Foundation and Jewish Family Service's suicide prevention program, Touching the Heart.
EMSF members now understand how Eric struggled to balance his courseload and extracurricular activities while coping with a severe bowel disease. They wanted to provide a scholarship for students who need special assistance to participate in college life; by endowing a scholarship, the foundation has provided long-lasting support to help the many students who suffer in silence.
In Debra's word, "Giving [the university] a scholarship to administer and award we could help them help other students like Eric. If the scholarship can help someone who struggles with chronic medical issues have a more normal life while at UT and enjoy both the academic and social aspects of attending UT, then…it will help carry on an extension of Eric's life."