Ken Cowan Endowed Memorial Scholarship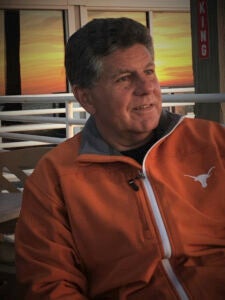 "Engineers are a different breed; they are quiet, logical, and systematic in their thinking.  Ken was this way, and he often stated that he would not want his family to waste funds on a huge, sad goodbye.  This scholarship fund is our family's way of honoring that wish and allowing friends to share in commemorating Ken's memory by supporting future engineers at his beloved UT for years to come!"- Julie Cowan
In August, 2020, Ken Cowan's family launched the effort to create the Ken Cowan Endowed Memorial Scholarship, just as he wished. For the future students whose dreams will be supported by this gift, this is the story of Ken's Longhorn adventure.
Ken was stationed overseas as a Naval Officer in 1985 when the Navy assigned him to attend the University of Texas for a master's degree in Petroleum Engineering.  His young bride of six months found a job on campus and a home at the farthest south stop of the Austin Metro Shuttle, which was then Slaughter Lane.  Ken started his master's that summer at the Cockrell School of Engineering, where he developed a lifelong love for The University of Texas.
Beyond the many hours spent on campus, Ken was a Texas Longhorn every day of his life by not only sporting his burnt orange proudly, but also putting his "horns up" while watching games on-screen in another state.  He even named his first dog Bevo!  
In 1987, while Ken was having his thesis copies made at the Kinko's copy store that was at that time across Dean Keeton from campus, his wife called the store to tell Ken she was going into labor with their first child. His son was born a few blocks away at St. David's just as Ken's thesis was being turned into the Petroleum Engineering school.
In 2001, after a successful career, Ken accepted the honor of joining the prestigious Cockrell School of Engineering Advisory Board, where he served for 19 years. The Board is a dedicated group of alumni and supporters of the Cockrell School of Engineering who are industry leaders and advocates for the school. Active members provide support to Cockrell School leadership through alumni and donor community engagement, planning educational experiences for student engineers and upgrading the learning environment as the field advances.
In 2013, Ken's next dream came true as his daughter graduated from UT with a B.S. in Biomedical Engineering. Shortly prior to his daughter's graduation, Ken and his daughter joined the Order of the Engineer together, an international member organization. His wife, Julie, said "Yes, the Cowan family bleeds burnt orange!" Ken was what UT grads exemplify: he was a constant learner, a supportive leader and most importantly, respected by all that knew him. 
H
ook 'em, Ken! Your life made a difference and now will keep giving to generations of future Longhorns.