The Longhorn Legacy of Marie Jo Anderson
Marie Jo with one of her prized horses, *Padron
Marie Jo was small but mighty. A mere 5'1″ tall, Marie Jo's dedication and enthusiasm left an indelible mark on everyone who knew her. She had a knack for nurturing both flora and fauna; an expert gardener and a prolific orchid grower, Marie Jo also created and managed a business breeding Arabian horses.
Born Marie Jo Baker, she met her husband Carl Anderson through his transportation business. Carl's is a classic "rags to riches" story: born into a poor family of 10 children, he dropped out of high school to support his family, and went from hauling and laying pipeline with a single truck to growing a successful company into a domestic and international powerhouse. The Andersons never forgot their humble beginnings, and they chose to celebrate their success by giving back to others.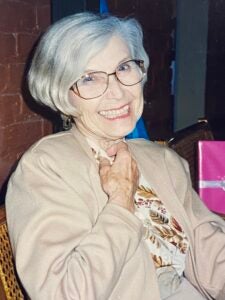 Marie Jo's strength, vision and compassion helped lay the groundwork for the Carl C. Anderson Sr. and Marie Jo Anderson Foundation. Established in 1963, the foundation has invested more than $50 million in nonprofit organizations, with a focus on serving vulnerable populations and investing in medical research. This is where Marie Jo first crossed paths with UT Austin; the foundation became interested in Dr. Christine Schmidt's work in the Biomedical Engineering department. With the help of funding from the Anderson Foundation, Dr. Schmidt successfully developed a material that removes tissue rejection coating from cadaver nerves for implant to nerve surgery patients.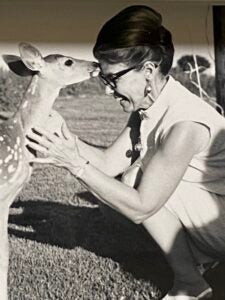 Animals of all kinds adored Marie Jo, and this wild deer is no exception!
Improving outcomes for surgery patients was a cause dear to Marie Jo's heart; one of her daughters, Carroll Jane Anderson, died at age 15 during surgery. However, Carroll Jane's memory lives on through her sister, Jennifer Jo Bird.
Jennifer "Jenni" Jo Bird, is Marie Jo's surviving daughter, and she has carried the torch of the Anderson family's philanthropy. When UT Austin announced that they would be opening a medical school, Jenni knew that her Mom would have loved to support the medical research happening there, and looked for ways to get involved.  
Jenni Bird and her husband John Bird have been avid supporters of Dell Medical School since its inception. From providing the Dean with discretionary funding, to supporting the healthcare innovation hub known as the Texas Health Catalyst, the Birds have continued to provide philanthropic support that would make Marie Jo proud. Jenni is excited to name the entrance lobby of the Health Learning Building after her mother, Marie Jo Anderson.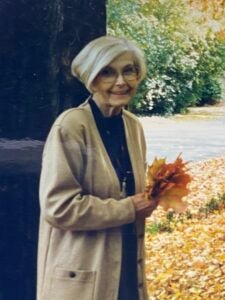 Marie Jo enjoying the foliage in one of her favorite seasons.