The Snow-Robinson-Barr Family Scholarship
In honor of the Snow family, the Robinson Family, and John Barr
By Donna Snow Robinson
When I matriculated as a freshman at The University of Texas in the Fall of 1955, I did not have an inkling of how profoundly the next four years would set the course of my life.  I was seventeen years old, the same age as the Department.
In those first few years, several outstanding faculty members came on board who were to become important mentors and teachers in my life, including James Moll, whose acting program and "dem lab" Fridays gave so many of us valuable practice, performing and directing for our peers. B. Iden Payne, the beloved Shakespearean actor/director whose "Britishisms" were legion, and who was said to be the inspiration for the "old actor" character in The Fantasticks by alumni Tom Jones and Harvey Schmidt. Dr. Francis Hodge, whose History of Theatre, and Miss Lucy Barton, whose History of Costume so enriched my world understanding; and of course dear Dr. Loren Winship, the chair of the department and the director of the Drama Education program.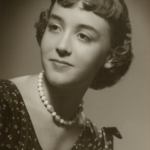 Donna Snow
In the  beginning, I was not at all sure that a drama degree would represent the well-rounded education that my parents hoped for. But by my senior year I understood that the courses I had taken, the productions I had participated in, and the students and faculty I worked with and learned from gave me a firm foundation. I have never, since then, regretted that decision.
In 1959, I married Donald E. Robinson, a neural scientist, who had just completed the second of three degrees from UT. We spent the next 51 years debating such things as whether a play had more value as a piece of written literature, or as performed on stage (!). (He and Greer Garson –not together– were in the audience when the cast of Taming of the Shrew performed in Dallas. I was a "Curtain Boy" and I had one line). 
In 1967, putting my love of theater and kids together, I became a founding member of the Puck Players Puppet Theatre in Bloomington, Indiana.  We performed weekly in the fall and winter at the Monroe County Public Library, at schools, churches, and libraries in Southern Indiana, and once on special invitation to the Children's Theatre of Evanston, IL. 33 years later the troupe was still going when Don and I retired to Texas in 2000. 
In 1984, our daughter Linda married John Barr. She helped raise her stepson Alex for several years, then, just as Alex was ready to go out on his own, along came Connor in 1996.  Connor was born to perform!  When he was just able to walk, he wan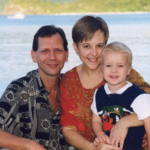 ted Mommy to help him up on a flat tree stump in their yard so he could sing a song!  His Dad had enjoyed performing  in high school and college, and co-wrote an award-winning musical at Brown University. 
John Brooks-Barr, Linda and Connor
John fully supported Connor's hopes and ambitions and was a mentor for Connor's middle-school stage productions.  From high school, Connor was recruited by UT Department of Theatre and Dance for their new concentration in musical theatre performance after graduating from MacCallum in Austin.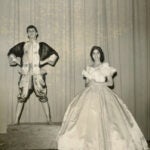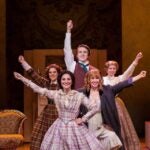 (Left) John Brooks-Barr, Col. White HS, 1968
 (Right) Connor Barr, Little Women, UT 2016
Other concerns and constraints have since prevailed, but at that time there were expectations for the indefinite continuation of a four-year Musical theatre concentration in the Department. It is my hope that a similar curriculum will be supported in the future.  Meanwhile, this endowment will contribute to resources for students of the department, whatever their path may be: performer, director, playwright, costumer, designer, technician, educator, historian, dramaturg, or some other theatrical interest still to be defined.
The University of Texas is an important part of Robinson family history. Among us, we have a total of nine degrees from UT!  A very good reason to contribute to the future of the institution.I have the BFA; Don had the Bachelors, Masters, and Doctorate in Psychology, our children Linda and Robert are proud Longhorns,  each with two degrees, and Don's father, Z.R. Robinson, got his teaching degree at UT.  Family lore includes the story that Don was born in Austin, as ZR was finishing his degree, in July of 1936, the hottest July on record to that date—it's no wonder he was an only child!) 
Donna Snow Robinson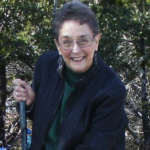 I am so grateful to be able to establish the Snow-Robinson-Barr Family Scholarship in honor of the Snow family who enabled their daughter, Donna to study with the founding faculty of the Department of Drama, each of whom made such a significant impact on her life;  and the Robinson family, whose last three generations have so many significant memories of the Forty Acres; and John Barr, who passed away too early, but whose legacy will continue through his son, Connor; and with high hopes for future alumni of the Department of Theatre and Dance.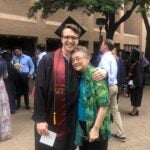 Connor Barr and Donna Snow Robinson, UT Graduation 2018
November 2020